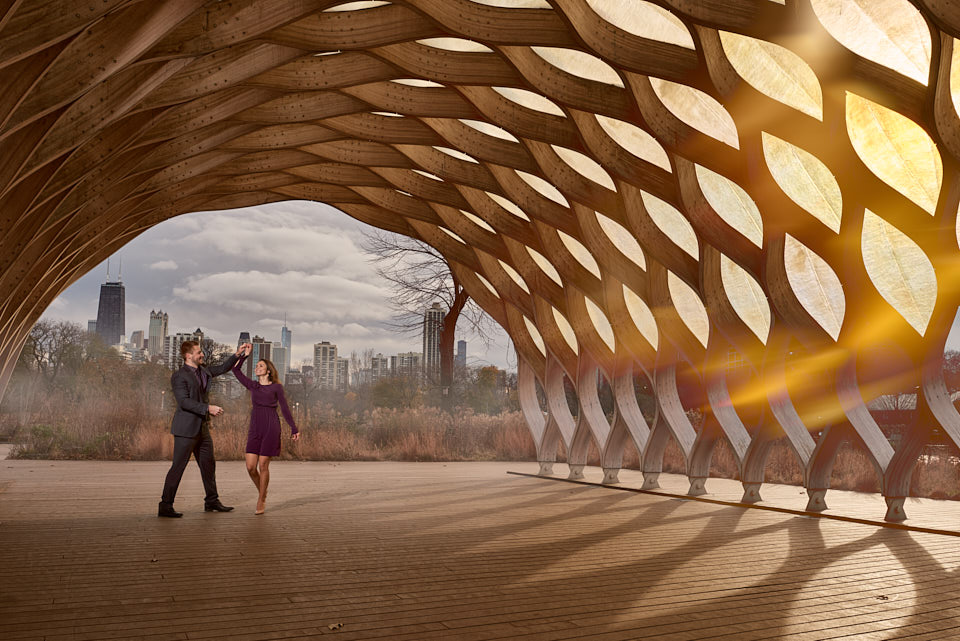 Studio Gang South Pond Engagement Photography
Almost famous in its own way, the Chicago South Pond in Lincoln Park is perfect for engagement photography.  It's not uncommon to see at least a dozen or more photographers and future newlyweds wandering the area on a pleasant weekend.  This iconic spot is the perfect merger of Chicago skyline and the beautiful greens of nature.
In the case of Kasia and Sebastian, the green was mostly fading with the onset of winter.  Instead we were left with a beautiful color palette of oranges and browns which were complimented perfectly by the purple in their outfits.  It wasn't quite freezing but we were in the 40 degree range on the day of their engagement session.  This lead to many quick changes of coats being constantly put on and taken off.
Of course being cold while outside for several hours is not ideal.  But there is one very strong positive to the entire experience.  There was not another soul in the entire area.  Imagine having Lincoln Park South Pond, one of the most scenic places in Chicago, all to yourself!  Coats and hot cups of coffee can warm you up if you're cold but the opportunity to have no distractions is priceless.  And if you're wondering, our second location after our coffee warm-up was Mary Bartelme Park.