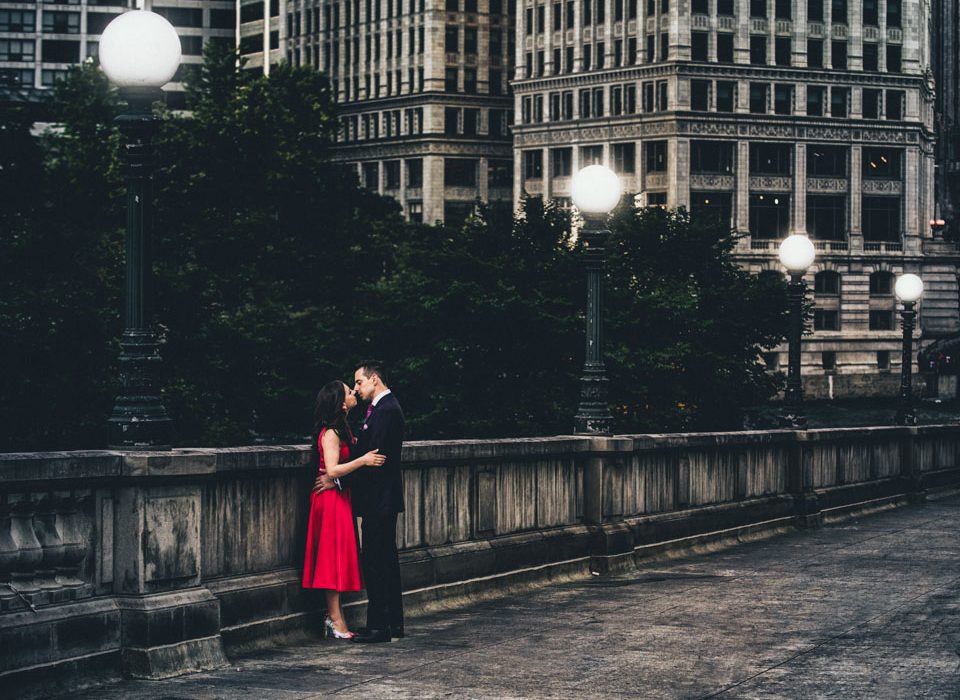 Your engagement session can be a combination of two very different ideas.  This weeks Chicago loop engagement features Nikki and Peter.  Nikki is all smiles and the trick is to try and catch her not smiling even when she's not in front of the camera.  Peter also has a great sense of humor but wanted a more dapper feel to the images.  What we ended up working out was a session where we did both styles.  We first started with a more fashion feeling shoot in and around the loop area.  Peter went with a suit while Nikki flourished a stunning and vibrant dress.  It was a perfect day to wander around and see which spots captured our eye.  The session actually began with a wall I had spotted while parking near a back alley way.  From there we continued to the Chicago River Walk and the bridges.
For the second half of the session Nikki and Pete changed into something a bit more laid back and playful.  They grabbed their new outfits and we headed off to Molly's Cupcakes for more photos!  If you have not been there, Molly's instantly became one of my favorite spots to get a cupcake.  The playful decor and quirky feel make it a wonderful spot to stop in for a bite.  My suggestion is that if you go there to capture some photographs, do those first before biting into a cupcake.  Otherwise you won't want to stop!
Special thank you to Molly's Cupcakes located at 419 E. Illinois, Chicago IL 60611 for letting us take over for a short time.