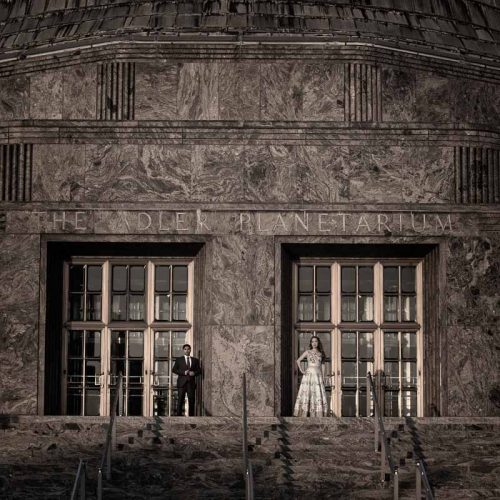 The Chicago Adler Planetarium doesn't just give you a glimpse into the awe inspiring universe, but also an amazing view of the Chicago skyline.
When looking at a place to capture engagement or wedding photos, the outstretched peninsula which houses the circular building provides a picturesque perch on which to feast your photographic eyes.
We met with Young and Vinay at the new Maggie Daley Park. If you have not been there, it's a playground that even adults can have a great time at. With kids running around all over, we spent just the first part of the engagement session there. The park was where they got engaged so we wanted to make sure to make a stop there before continuing with the session.
The next destination was the Adler Planetarium which was surprisingly low key and not crowded as it often can be. This is really the only issue to work around when planning a session there. Finding a parking spot and getting a clear view of the city from all of the other folks who are photographing or lounging in the area. After a few classic signature images we were off to our final stop.
A short ride away from the Adler Planetarium is the Margaret T Burroughs park. This quiet little spot is easily overlooked and tucked behind McCormick Place along the lakefront. What's great about this location is that the isolation allows you to have your own private little park to photograph in. There is also a small sculpture walk in the area and a perfectly scenic beach view of the city as well. If you're thinking of doing your engagement photos in the city of Chicago, the open lakefront can offer you a classic scenic view from north to south.