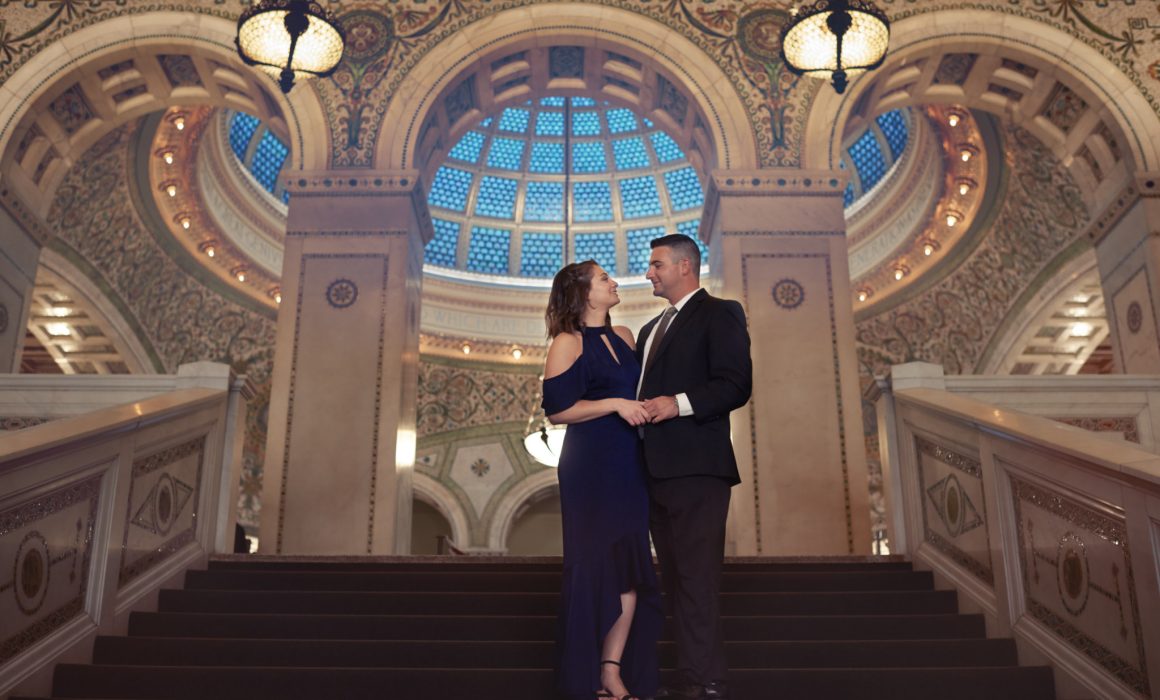 Wrigley Square at Millennium Park Engagement
If there are two amazing gems to capture your photos at it's the Chicago Cultural Center and Wrigley Square.  The stunning architecture, location and world's largest Tiffany Dome make it an amazing spot to check out.  Best of all is that access to the building and most of the exhibits is free!  This wasn't my first rodeo at this location, check out Ashley and Kyle if you'd like to see more.
Our plan was to get started at 4:30pm and go until closing time (5:00pm).  The only problem we found out as we got started was that they start kicking folks out at 4:45!  We got our hustle on and quickly went from spot to spot before closing time!  One final note about the Chicago Cultural Center is that they do not require a permit most of the time for photography.  But I do suggest that you give them a ring if you're planning a shoot there to make sure they don't have any restrictions for private events or exhibits.
Catherine and Nick decided to go on the more formal side with Catherine sporting a gorgeous dress from Rent The Runway. The initial plan was to head across the street to Millennium Park but as usual in my shoots, we had to take a detour.  Wabash street is just beginning to open up to the public after a multi-year construction and we did a loop around the block before making our way to the park.  The shoot came to a wrap at a spot just north of Millennium called Wrigley Square.  This session is best described as classic Chicago with a modern, formal twist.