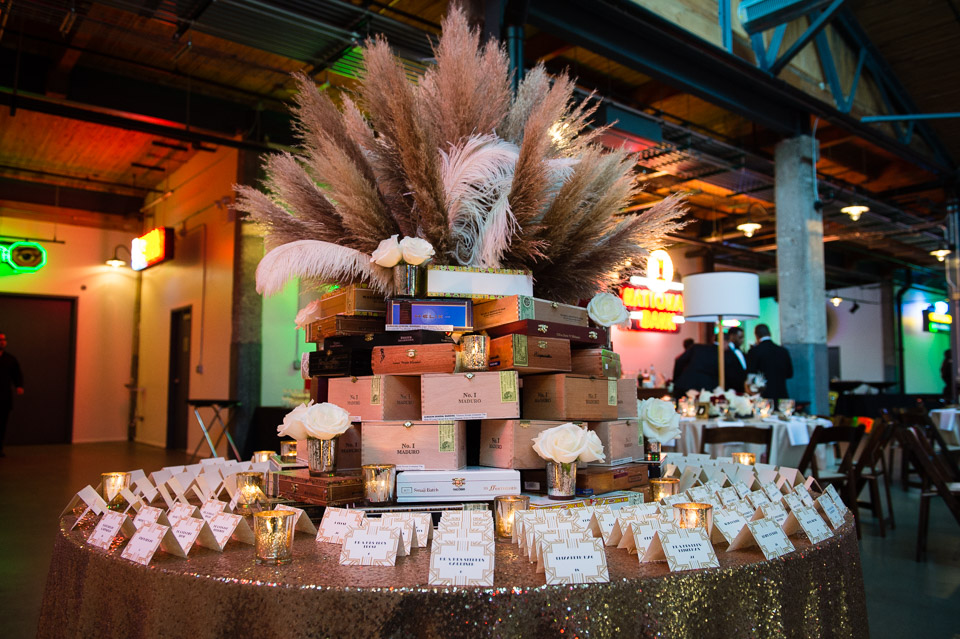 Ravenswood Event Center Wedding
We fast forward a year later from Regan and Troy's engagement session which was both at The Violet Hour and Public Chicago.  Going with a swing style theme, the couple settled on a "Gatsby" wedding at Ravenswood Event Center.  Regan is not only a dancer but runs her own school so we knew that dance was going to be a big part of the day!  Guests were not disappointed when Regan and Troy were introduced and performed three different dances.  Not only did they choreograph the dances themselves but they did two "quick changes" while dancing where Regan would twirl and all of a sudden her tango style dress would morph into a swing style dance skirt.
The day began at the Waldorf Astoria Chicago where Regan got ready and the couple had their first look.  We then took a trolley to Lurie Garden at Millenium Park for bridal party portraits.  The scenic fall colors were a perfect contrast to the rich city architecture.  It was a rather brisk day and if you're planning on having a fall or early winter Chicago wedding, do factor that in when selecting wardrobe for yourself and your bridal party.  The ceremony and reception were both at the Ravenswood Event Center which is a quaint little spot that can be easily overlooked.  The exposed brick and vintage cars they house there made an idyllic backdrop for their Gatsby theme.  The final surprise of the day was that their florist and designer, Ozzie Gromada Meza had total creative control of all decor.  The couple did not know how the venue would look when they arrived and they were completely blown away by Ozzie's attention to detail.
Date // 10.16.15
Ceremony + Reception // Ravenswood Event Center
Flowers + Decor // Gromeza Floral Design
Photography // Michael Novo + Kat Schrodinger
Video // Amy Arhart