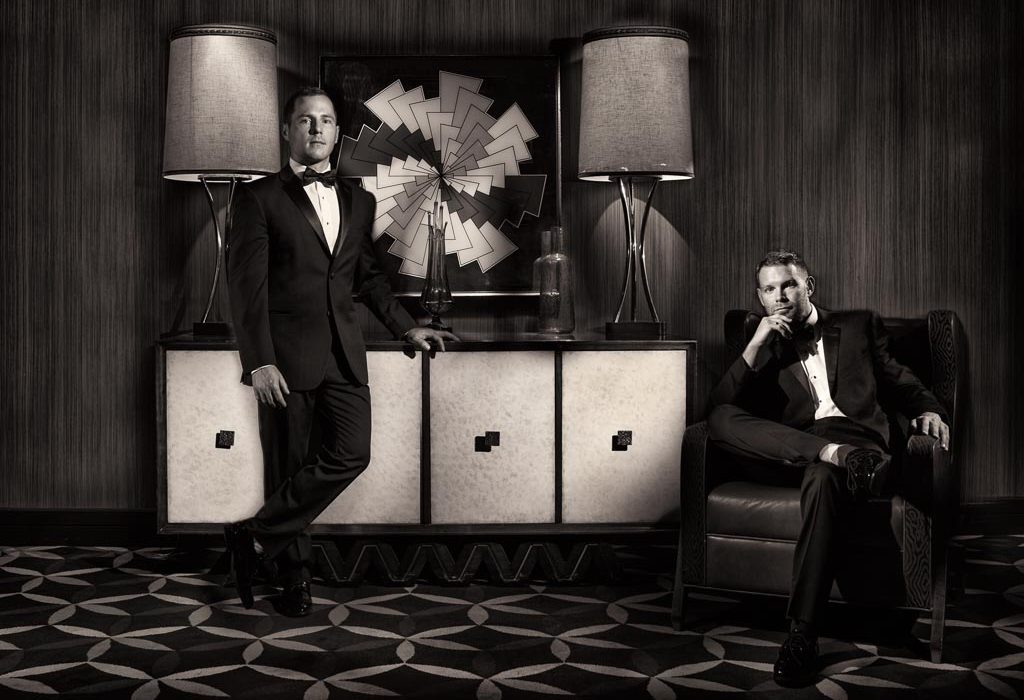 Long before Michael and Whit made their way to the Hotel Lincoln in Chicago, we began their engagement session with a more lifestyle theme.  We really wanted their personalities to come forward which is along the lines of Michael playing with the dog in bed as Whit examines the two of them from a mildly perturbed perspective.  But this is who they are and the importance of bringing yourself and your personality to your shoot.
The journey began at home but proceeded to a laundry mat down the block to put a funny twist on a day in the life of Michael and Whit.  And as part of any session that you can expect from us, it wasn't long before I decided to mix it up by having them get down to their boxers and do some laundry folding.  If you're wondering if this was during normal business hours with others around, the answer is yes.  But that adds to the fun and excitement of any shoot!
Our second to last stop was Heritage Bicycles and Coffee where you can both have some coffee in a vintage style shop as well has get a bike or have yours tuned up!  The Metro van they have in the seating area outside was the perfect spot to move to once the inside seating began to fill.  Fortunately Whit was feeling adventurous when I asked him to climb up on the roof of the van and have a seat on the bike that was up there.  We didn't completely get permission to climb up there, but since we didn't ask, we also didn't get a 'no' either 🙂
Finally we made it to a wonderful and charming boutique hotel know as  Hotel Lincoln which is minutes away from North Avenue Beach.  The property was recently renovated and as I looked at the style and then discussed the theme with Michael and Whit, I was inspired to go the direction of 'Mad Men goes modern'.  The color palette is a very deep, sultry and saturated one at the location where we photographed in the hotel so it was important to not overpower it with excessive lighting.  The various nooks and corners all provided something unique and interesting to photograph.  Combined with a great staff that checked in with us regularly, the Lincoln Hotel gets a big thumbs up and a huge Thank You!