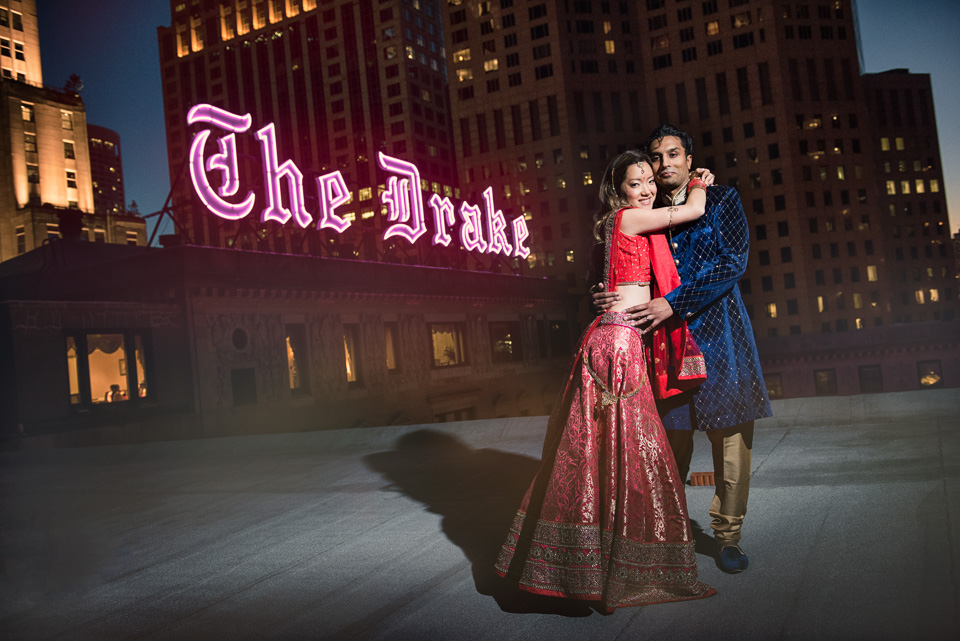 Korean and Indian Wedding at The Drake Hotel
The Drake Hotel is one of the most iconic views from Lake Shore Drive.  If you're traveling in the early evening or night time you'll see the lavender sign glowing for miles.  Interesting fact about the sign is it's not neon like you might think but was converted to LED in 2013.  One of the best parts is that couples getting married at The Drake can get access to the roof for photos with the sign!
This day we had two ceremonies and three dresses!  It was a full day of fun and festivities kicking off with the Korean ceremony and gorgeous dress #1 at 11am.  It was a hybrid of Western and Korean wedding ceremonies with fiery red bridesmaids dresses and stunning decor.  Time was short and after the ceremony we made our way down Michigan Aveanue towards the historic Fourth Presbyterian Church for a portrait session before lunch.
The second half of the day shifted gears to the Baraat and Indian wedding ceremony.  Complete with a horse, music and a party down the street the baraat is the grooms procession towards the wedding ceremony.  Chicago PD came out to temporarily block off a portion of Oak Street as guests gathered and the music got the party started.
After the baraat, guests made their way inside for the Indian wedding ceremony.  A little bit longer than the first, the bride was now in dress #2 and looking as fabulous as ever.  Indian weddings, traditions and ceremonies can vary from each other depending on the part of India the family is from.  But the message of love and happiness remains the same.
With the completion of the ceremony we had the opportunity to head up to the Drake's rooftop for just a few minutes before the bride put on dress #3 and headed off to the reception.  The party continued but our 12 hour shoot was at a close.  The Drake Hotel truly makes for a wonderful and iconic backdrop for any wedding or event.  And if these images aren't enough, check out their engagement session at the Adler Planetarium!