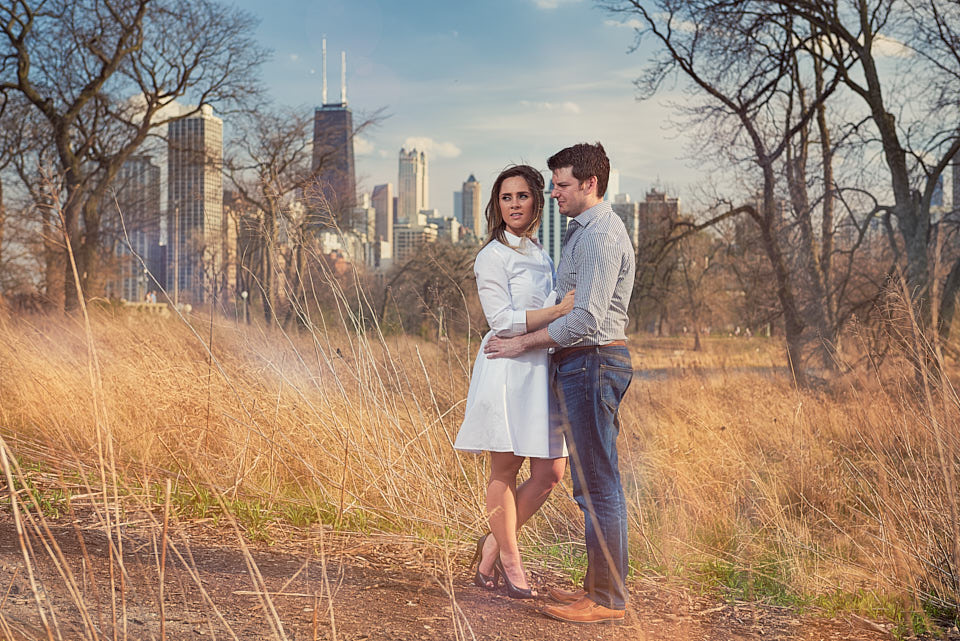 Lincoln Park Lily Pond Engagement Session
After moving to Lincoln Park, Maggie and Grant wanted to capture their engagement photos in their new neighborhood.  The area hosts a number of Chicago icons including the Lincoln Park Zoo, South Pond and DePaul University.  It's a picturesque spot which is constantly buzzing with families and recently engaged couples capturing their portraits.
The plan was to meet at the Alfred Caldwell Lily Pool and work our way towards South Pond to catch the last rays of sunset.  South Pond is perhaps the more iconic location in the Lincoln Park area and features a honeycomb structure by Studio Gang.  Here's where I'll insert one major tip for wearing heels or otherwise uncomfortable but beautiful shoes to a portrait shoot.  Be sure to carry a set of shoes with you that's comfortable to walk around in between locations.
Timing your engagement photos is also key to the emotion and story they will convey.  A soft sunrise can lead to very warm and "soft vintage" style before the sun comes up over Lake Michigan.  But the moment the sun breaks the horizon through the afternoon, you're moving into lighting that's ideal for a more high fashion look.  And of course once the sun sets behind the city skyline you're again left with a warm gentle glow.  Be sure to plan your session time to correspond with the look and feel you want your images to have.